The Provacateurs Cohort (Ontario, Canada)
In March 2020, Ryan was a biostatistician at Southlake Regional Health Center in Newmarket, Ontario where he was in charge of creating a model to predict future ICU utilization. The one value found to be predictive in nature was the effective reproductive value (Rt). Due to Ryan's past experience at the Public Health Agency of Canada, it was a value he was able to calculate.
In May of 2020, Ryan shifted gears when he realized that this important metric, used throughout Europe, was referred to by the Province of Ontario constantly but it's value was never publicly released.
In the summer of 2020, Ryan extended his Rt calculations to include all 34 public health units in Ontario, Canada. This extension proved extremely beneficial when the Province of Ontario included the Rt value in their "regional framework" but still did not release the value publicly.
In the fall of 2020 Ryan departed from Southlake and started working independently. He realized the "hiding" of this value wasn't just an Ontario problem; in fact, it happened throughout Canada. He shifted gears and started providing this value for every large Canadian province as well as all urban centers.
This value is updated on his Twitter profile (@imgrund) every morning. He has not missed a daily update since May 2020.
The value of Ryan's effective reproductive number calculations was further elevated when several public health units in Ontario started using both his values and his methods, including Ottawa Public Health.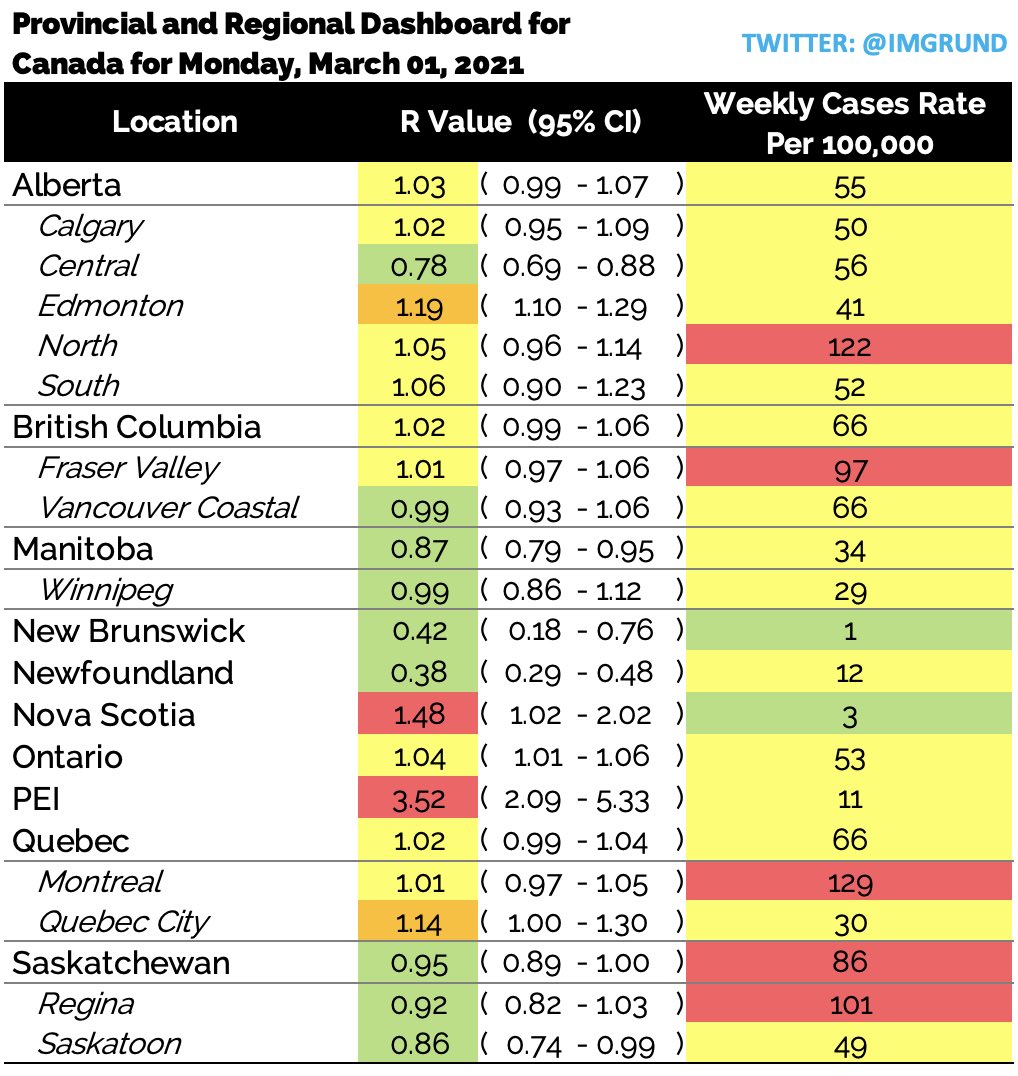 "Currently, I am the only person reporting regional effective reproductive values (Rt) in Ontario, a metric that is being used by our Government to re-open our Province. No one else releases this value, not even our Government," Ryan said. "I have expanded this and now release the Rt for EVERY Canadian Province and EVERY major Canadian city – EVERY morning at 8:00 EST. I am a biostatistician, who works with several major public health units, including Ottawa, Ontario Canada, and Six Nations, an indigenous community in Ontario. My full-time job is a high-school science teacher in the Greater Toronto Area."
Aside from publishing this important metric on a daily basis for all Canadians, he also publishes a personal risk assessment by region, school-based cases, and global case counts. He has become the go-to source for Canadian Covid content not just by the people of Canada, but by several health units including Peel Public Health and Six Nations Health Services.
A few words from those who nominated Ryan:
"High school teacher by day, also biostatistician by day, and also COVID-19 resource by day… I'm not sure how he fits it all in, but he is definitely one of Canada's date heroes!"